Stairlift Website Seo

Stairlift Suppliers approached us regarding their existing uk stairlift supplier site. They were interested in improving their Google ranking for their website.

The domain name is a great advantage, as it contains the main search terms they are targeting, something to bear in mind if you are setting up a new site.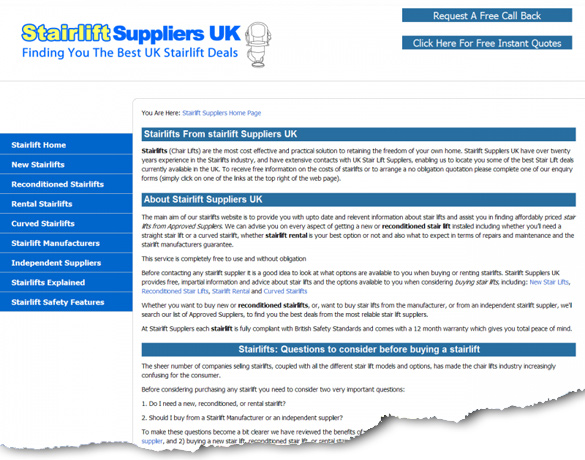 SEO : The plan of attack
After we had carried out a review of the site, their current rankings and popularity, we recommended some changes to the link structure and navigation of the site. The domain name of the site was also a big advantage with this project.

The site also needed a few more backward links set up for it, so we sourced these for the client, over the period of a few weeks.
The Outcome
After the optimization process had been completed the site had been updated and we had managed to achieve a number one ranking in Google, MSN and Yahoo! for the site. *
* This information was accurate at the time of writing.
If you are interested in achieving a high search engine ranking for your website, please contact us today.